Annoncé de façon assez confidentielle et ce, dans le cadre d'un weekend blues, ce concert "chez Mickey" en surprit plus d'un surtout qu'aujourd'hui, qui connaît le sieur Marsden ? A vrai dire personne si ce ne sont les passionnés de la Purple Family qui savent que notre ami a écumé la planète en compagnie de Whitesnake.
Je ne me posai pas la question pendant des heures en dépit d'un vilain lumbago survenu la veille. A coups de Tramadol, je décidai quand même de m'y rendre en compagnie de Ponpon et Jb42 car je savais pertinemment qu'on ne le reverrait pas de sitôt, notre ami.
Après un trajet sans encombres et une petite marche nocturne un peu pénible jusqu'à Disney Village où règne en permanence une ambiance de fête, je retrouve des potos tels que Lylian, Stéphane, Roger et Ronan qui sont déjà massés devant la scène.
A peine arrivés que voilà, notre Bernie monte sur scène accompagné ô surprise...................................de Neil Murray, ci-devant bassiste des années dorées de Whitesnake. Trouble, Lovehunter, Ready An' Willing, Live....In The Heart Of The City, il est dessus et j'avoue être particulièrement content de voir enfin nos deux compères jouer ensemble. Son dernier opus en date (2014) intitulé Shine est d'entrée de jeu mis à l'honneur grâce à son opener Linin' Track. S'engageant dans un registre qu'il maitrise parfaitement bien, le Blues, le trio revisite avec maestria l'un des classiques du genre à savoir Born Under A Bad Sign de Booker T and The MG's....

Naturellement, l'interprétation de Walking In The Shadow Of The Blues suscite la nostalgie chez tous ceux qui m'accompagnent notamment Roger qui me murmure à l'oreille : "Phil, David est là, il va monter sur scène !!!!".mdr Nos deux amis n'ont rien perdu de leur verve et c'est une version superbe qui est nous livrée là. Neil Murray, sérieux et imperturbable, aligne ses lignes de basse avec une redoutable efficacité. Le son au Billy Bob's a toujours été impeccable et c'est encore le cas ce soir sur Shakey Ground extrait de l'oublié Look At Me Now (1981). L'inévitable Ain't No Love In The Heart Of The City remporte toujours un franc succès auprès de l'assistance correctement fournie. En effet, ce titre ne dépare pas face à la tonalité bluesy qu'affiche le trio puisque celui-ci enchaîne sur trois excellentes versions de Key To The Highway (popularisé par Eric Clapton au sein de Derek And The Dominos), Crossroads (incontournable parmi les incontournables) et Oh Well de Fleetwood Mac.
Retour sur le répertoire reptilien via un Fool For Your Loving un peu déconcertant au départ mais magnifiquement revisité après coup. Hoochie Coochie Man de Willie Dixon popularisé par l'emblématique Muddy Waters nous met "l'eau à la bou(e) che"...avant un Here I Go Again interprété dans une version comparable à celle qui figure sur le double live Here They Go Again de The Company Of Snakes. Un set en tout point magnifique, censé durer 30 minutes...mais qui nous combla totalement puisqu'il atteignit presque les 80 minutes. Merci Messieurs pour ce superbe show, votre disponibilité et votre convivialité après le concert....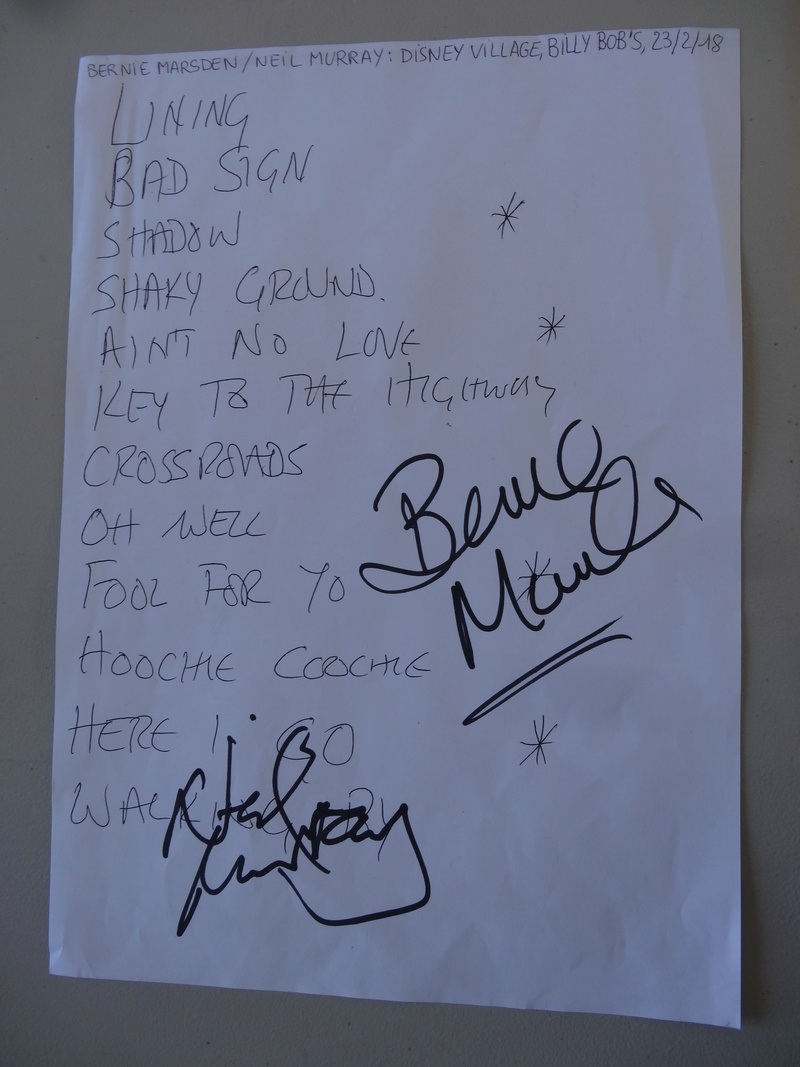 Comments: